AKTIVITAS PENGELOLAAN LAYANAN PUBLIK BERBASIS WEBSITE DI DINAS KOMUNIKASI DAN INFORMATIKA BANYUMAS
Mirra Saefunnisa

Institut Agama Islam Negeri (IAIN) Purwokerto
Keywords:
Public Service Activities, Information Management, Dinkominfo Banyumas
Abstract
This research is motivated by the many problems of government activities that are currently increasingly being highlighted by the community, especially those related to public services organized by the Government agencies of the Communication and Informatics Office of Banyumas Regency. One problem is that public institutions, which in fact act as information providers, are led to work continuously by preparing a database of information for publication. Thus the purpose of this study is to determine the activities of public service information management in realizing the quality of communication in the Communication and Informatics Office of Banyumas Regency. The purpose of this research is to find out how public servants are a way for the Communication and Information Technology Office to provide transparent, accurate, fair services to the public, so that public agencies can produce quality services. Furthermore, documenting information, which is an activity of recording and storing all information that has been obtained in the work unit by authenticating information, coding the information and its relation to the packaging of information.
References
Basuki, Sulistyo, Dasar-dasar Dokumentasi, Jakarta: Universitas Terbuka, 1996.
Bungin, Burhan. Metode Penelitian Kualitatif, Jakarta: Kencana Prenada Media Group, 2005.
BKPM. Mekanisme Pelayanan Informasi, On line at https://www.bkpm.go.id/id/ppid/mekanisme-pelayanan-informasi. Diakses pada tanggal 10 Maret 2021 pukul 12:29.
Elvinaro, Ardianto. Metode Penelitian untuk Publik Relations, Bandung: Simbiosa Rekatama Media, 2010.
EPPID. https://eppid.kominfo.go.id/. Diakses Sabtu, 6 Maret 2021 pukul 12:35.
Komisi Informasi Pusat RI. Peraturan Komisi Informasi No. 1 tahun 2017 tentang Pengklasifikasian Informasi Publik. Online at https://komisiinformasi.go.id/?portfolio=peraturan-komisi-informasi-nomor-1-tahun-2017. Di akses pada tanggal 15 April 2021 Pukul 10:00.
Moleong, Lexy J. Metode Penelitian Kualitatif. Bandung: Remaja Rosdakarya, 2009.
PPID Kabupaten Banyumas. Profil Singkat PPID. Online at http://ppid.banyumaskab.go.id/page/21788/profil-singkat-ppid. Di akses pada tanggal 6 Maret 2021 Pukul 13:05.
Siregar, Amir Effendi. Mengawal Demokratisasi Media, Menolak Konsentrasi Membangun Keberagaman, Jakarta: TIFA, 2014.
Sugiono, Metode Penelitian Kuantitatif, Bandung: Alfabeta, 2009.
Sugeng, Winarno., dan Indah Septieem Mery, Analisis Jaringan Komputer Dinas Komunikasi dan Informatika, dalam Jurnal Informatika Vol. 3, Januari-April 2012.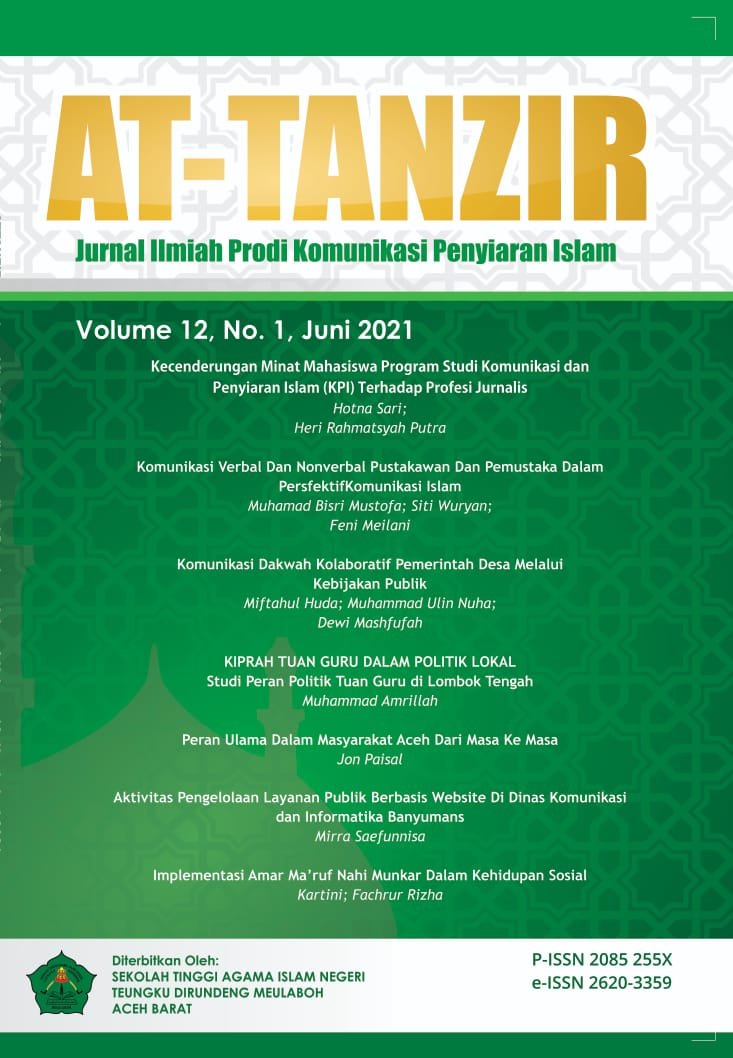 Copyright (c) 2021 AT-TANZIR: JURNAL ILMIAH PRODI KOMUNIKASI PENYIARAN ISLAM
This work is licensed under a Creative Commons Attribution-ShareAlike 4.0 International License.