KECENDERUNGAN MINAT MAHASISWA PROGRAM STUDI KOMUNIKASI DAN PENYIARAN ISLAM (KPI) TERHADAP PROFESI JURNALIS
Hotna Sari

Sekolah Tinggi Agama Islam Ar-Ridho Bagansiapiapi

Heri Rahmatsyah Putra

Sekolah Tinggi Agama Islam Negeri Teungku Dirundeng Meulaboh
Keywords:
Student Interest Tendencies, Journalist Profession
Abstract
This study aims to determine the tendency of students in the study program on Islamic communication and broadcasting STAI Ar-Ridho Bagansiapiapi to the profession of journalists. The method used in this study is the quantitative descriptive method with data analysis through a simple calculation of statistical data. Data collection techniques using observation guides, interviews, questionnaire guides and documentation. The results showed that the factors that influence the tendency of students from the Islamic Program for communication and broadcasting studies to the profession of journalists, there are individual (interpersonal) factors consisting of four indicators, namely indicators of the seriousness of the profession of journalism, will, attitude and activity in the conduct or follow-up of journalistic lectures in the Programme for communication studies and broadcasting of Islam has a percentage of 59.07% , of the four indicators with an average number of answers per question up to 62.96.  Although environmental factors are divided into three indicators, namely care, pleasure and intensity in learning or driving has a percentage of 36.35% with an average number of responses per report of 37.03. The findings showed that the tendency of students of the Islamic Program for Communication and Broadcasting Studies towards the profession of journalist, 84 students have a strong tendency to the profession of journalists
References
Astari, Asti Dewi. Skripsi Minat Menjadi Jurnalis Pada Mahasiswa Komunikasi Dan Penyiaran Islam Fakultas Dakwah UIN Sunan Kalijaga Yogyakarta, http://digilib.uin-suka.ac.id.Pdf diakses pada 27 Februari 2016.

Maisaroh, Siti. Pengaruh Minat Mahasiwi Fakultas Ilmu Pendidikan Universitas Negeri Medan Terhadap Kegiatan Dakwah Muslimah Hizbut Tahrir, Skripsi: Universitas Negeri Medan (UNIMED), 2011.

Manan, Abdul. Upah Layak Jurnalis, Survey Upah Layak AJI di 16 Kota di Indonesia, Jakarta: Aliansi Jurnalis Independen (AJI) Indonesia, 2011.

Masduki, Jurnalistik Radio, Yogyakarta: Lkis, 2006.

Mufid, Muhammad, Komunikasi Regulasi Dan Penyiaran, Jakarta: Kencana, 2007.

Muhtadi, Asep Saeful. Jurnalistik Pendekatan Teori Dan Praktek, (Jakarta: Logos Wacana Ilmu,1999).

Nawawi, Hadari. Metodologi Penelitian Sosial, Yogyakarta: Gajah Mada University Press, 2003.

Saeful Muhtadi, Asep, Jurnalistik Pendekatan Teori dan Ptaktik, Jakarta: Logos Wacana Ilmu, 1999.

Shaleh, Muhbib Rahman, Abdul Wahab, Psikologi Suatu Pengantar Dalam Perspektif Islam, Jakarta: Kencana, 2004.

Stein, M.L, Bagaimana Menjadi Wartawan, Jakarta: Rineka Cipta, 1993.

Sunarjo, Djoenasih S. Pengantar Ilmu Komunikasi, Jakarta: Liberty, 2000.

Syamsir, Salam dan Jaenal Arifin, Metodologi Penelitian Sosial, Jakarta: UIN Jak Press, 2006.

Syamsul M. Romli, Asep. Jurnalistik Praktis, Bandung: Remaja Rosdakarya, 2005.

Winurantho, Masih Bertumpu Pada Sang Pelopor, Survei Serikat Pekerja di Perusahaan Media, Jakarta: Aliansi Jurnalis Independen Indonesia, 2010.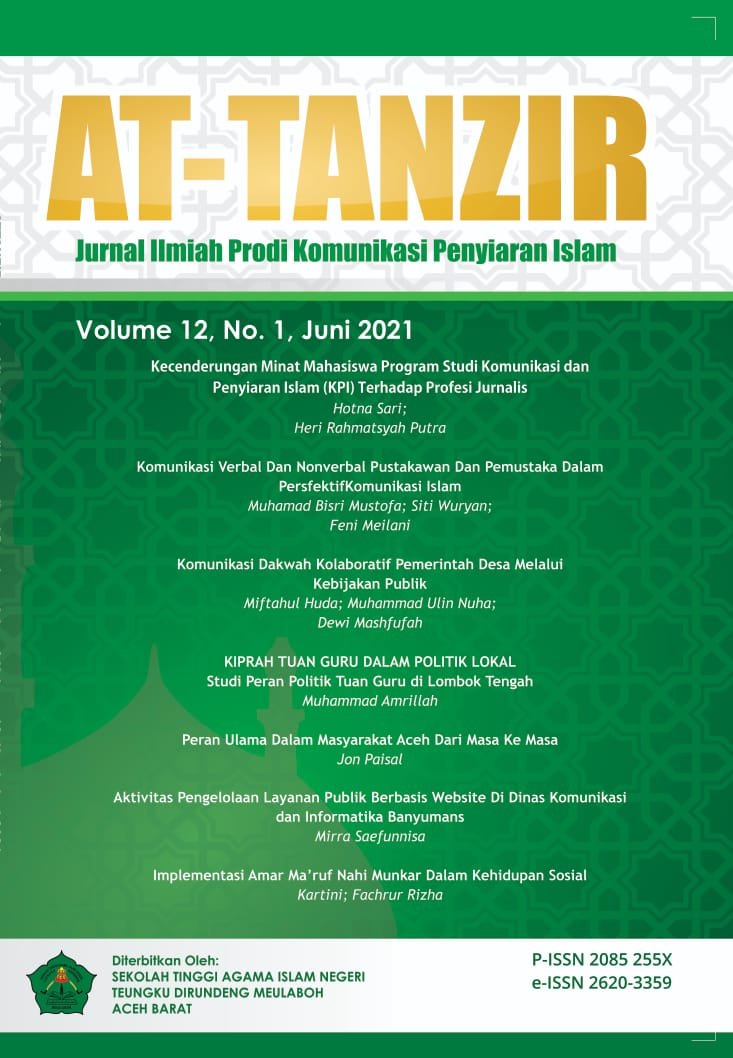 Copyright (c) 2021 AT-TANZIR: JURNAL ILMIAH PRODI KOMUNIKASI PENYIARAN ISLAM
This work is licensed under a Creative Commons Attribution-ShareAlike 4.0 International License.