THE EFFECT OF THE USE OF MONOPOLY LEARNING MEDIA ON MATHEMATICAL REASONING ABILITY IN CLASS V STUDENTS ON BUILDING SPACE MATERIALS AT MI MIFTAHUL HUDA
Akhmad Fauzi

IKHAC Mojokerto

Rani Rani Arnia

Institut KH Abdul Chalim Mojokerto
Keywords:
Build Space, Mathematical Reasoning Ability, Monopoly Learning Media
Abstract
According to the results of the PISA score in 2018, Indonesia occupies 72nd place out of 79 countries in numeric literacy. One of the reasons is that learning is still monotonous. Monopoly learning media is a media game where students can play an active role during education. This study aims to determine the effect of using monopoly learning media on the mathematical reasoning abilities of fifth-grade students on the material of the spatial structure. This type of research is a quantitative one-group pretest-posttest design research. A research sample of class V, which amounted to 20 students, was given treatment. The results of the data analysis showed that the students' mathematical reasoning ability increased from the pretest score of 61.00 to 73.40 in the posttest. Then using paired sample t-test data analysis, the results obtained are 0.000 at a significance level of 0.05 (0.000 <0.05), so H0 is rejected, and Ha is accepted. So it can be concluded that there is an effect of using monopoly learning media on the mathematical reasoning ability of class V students in the material of spatial construction.
References
A.HusnalM. (2009). Permainan lTradisional lIndonesia: lUntuk lkreativitas, lketangkasan ldan lkeakraban. Jakarta: lAndi lPublisher
Badan lStandar lNasional lPendidikan. (2016). Salinan lPP lNomor l22 lTahun l2016. Retrieved from lhttp://bsnp-indonesia.org,
Depdiknas. (2006). Kurikulum Standar Kompetensi Matematika Sekolah Menengah Atas dan Madrasah Aliyah. Jakarta: Depdiknas
Hasbi, Muh. & Hidayah,lNurul. (2017). Pengaruh lKemampuan lPenalaran lMatematis Tehadap lKemampuan lKoneksi lMatematis lMahasiswa lPendidikan lMatematika. FKIPlUniversitas lTadulak lAngkatan, lAKSIOMA lJurnal lPendidikan lMatematika, lVolume l6 lNomor l2 l
Irwan, Dede. (2017). Pengembangan Media Permainan (Game) Monopoli Pada Pembelajaran Fisika Materi Besaran Dan Satuan Pada Tingkat Sekolah Menengah Pertama (SMP) (pp. 17).

Mikrayanti. (2016). Meningkatkan lKemampuan lMatematis lMelalui lPembelajaran lBerbasis Masalah, lSuska lJournal lof lMathematic lEducation, lVol.2, No.2
Muhson, Ali. (2010). Media Pembelajaran.Yogyakarta: Universitas Negeri, 1"VIII, No.2
Noviarni. (2014). Perencanaan lPembelajaran lMatematika ldan lAplikasi. lPekanbaru: Benteng lMedia (pp. l18).
Offirstson, lTopik. (2014). lAktifitas lPembelajaan lMatematika lMelalui lInkuiri lBerbantuan Software Cinderella. lYogyakarta: lCV lBudi lUtama
Sudijono, Anas. (2007). Pengantar Statistika. Jakarta: Rajawali Press.
Sugiyono, (2017).lMetode lPenelitian lKuantitatif, lKualitatif lDan lR&D. lBandung: Alfabeta.
Sukirman ldkk,l(2008).lMatematika. lModul. lJakarta: lPenerbit lUniversitas lTerbuka.
Widayanti Numa Sa'adah, (2010). Peningkatan Kemampuan Penalara Matematis Siswa Kelas VIII SMP Negeri 3 Banguntapan Dalam Pembelajaran Matematika Melalui Pendekatan Pendidikan matematika Melalui PMRI.
Widyoko, Eko Putro. (2009). Evaluasi Program Pembelajaran. Yogyakarta: Pustaka Pelajar.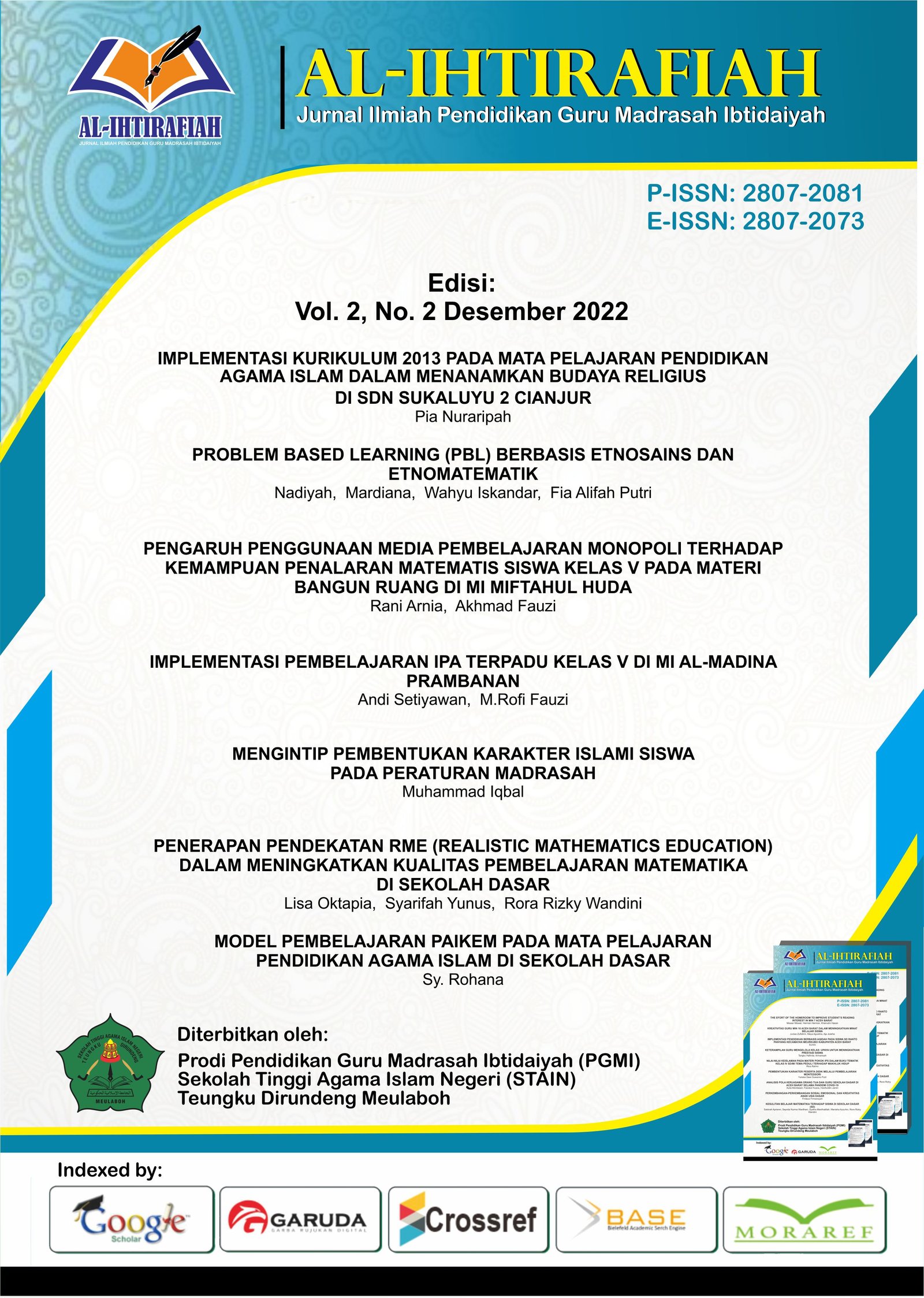 Copyright (c) 2022 Rani Arnia, Akhmad Fauzi
This work is licensed under a Creative Commons Attribution-ShareAlike 4.0 International License.